It has been a very soggy morning with moderate to heavy rainfall and some thunderstorms. This article only reports rainfall amounts through 7 AM as that is when most of the sites report each day. We will have a separate update tomorrow morning with the 7 AM to 7 AM totals for the rest of the day.
So, through 7 AM here is a look at the radar estimates.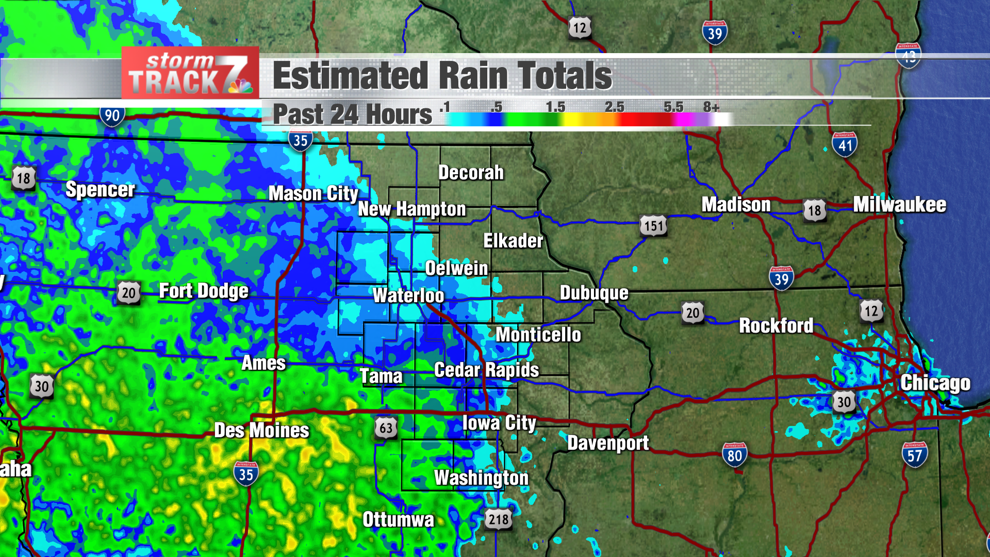 Here is a full list of totals through 7 AM from across the area.
| | |
| --- | --- |
| City | Amount |
| Waterloo | 0.04 |
| Dubuque | 0.00 |
| Cedar Rapids | 0.09 |
| Iowa City | 0.02 |
|   |   |
| Ainsworth 7.4 N  | 0.02   |
| Amana | 0.24 |
| Anamosa 3 SSW | T |
| Asbury 0.4 SW  | 0.02   |
| Bloomington 3.5 N | 0.02 |
| Cedar Bluffs | 0.17 |
| Cedar Falls 1.4 SSE  | 0.26   |
| Cedar Rapids 3.3 WNW  | 0.22   |
| Center Junction 2.6 W  | 0.09   |
| Center Point 0.6 NNW  | 0.07   |
| Center Point 4.0 SSE  | 0.22   |
| Charles City | 0.29 |
| Clutier | 0.30 |
| Coggon | 0.05 |
| Coralville 1.3 SE  | 0.05   |
| Decorah 7.9 ENE  | 0.20   |
| Dundee 1.4 NNE  | 0.02   |
| Dysart | 0.15 |
| Eagle Center | 0.10 |
| Eldora 1.2 ENE  | 0.17   |
| Eldora 1.7 SSE  | 0.17   |
| Elkader 6 SSW | 0.02 |
| Elkader 6.8 WSW  | 0.02   |
| Ely 0.5 SE  | 0.07   |
| Fairfax 4.0 NW  | 0.15   |
| Fayette | T |
| Fredericksburg 0.3 S  | 0.26   |
| Garwin | 0.22 |
| Gilbertville 1.0 NW  | 0.36   |
| Grundy Center | 0.21 |
| Hampton | 0.20 |
| Harpers Ferry 4.1 SW  | 0.06   |
| Hudson 1.1 SSE  | 0.13   |
| Independence 0.9 WNW  | 0.07   |
| Ionia 2W | 0.03 |
| Iowa City | 0.05 |
| Iowa Falls | 0.25 |
| La Porte City | 0.14 |
| Lisbon 0.1 W  | 0.03   |
| Manchester No. 2 | 0.02 |
| Maquoketa 4 W | 0.02 |
| Marengo | 0.18 |
| Marengo 2.6 SSW  | 0.26   |
| Marengo 3.6 N  | 0.15   |
| Marion 1.7 NNW  | 0.06   |
| Marshalltown | 0.32 |
| Monticello | 0.31 |
| Mount Auburn 2.2 NNW  | 0.09   |
| Muscoda 0.5 WSW | 0.01 |
| New Hampton | 0.02 |
| New Hampton | 0.02 |
| New Hampton 0.4 SW  | 0.01   |
| New Hartford | 0.10 |
| North Liberty 0.7 SSW  | 0.16   |
| Osage | 0.15 |
| Parkersburg | 0.02 |
| Parnell 4 S | 0.13 |
| Reinbeck | 0.13 |
| Robins 0.8 SE  | 0.07   |
| Shellsburg 2.9 S  | 0.10   |
| Sigourney | 0.75 |
| Solon 0.3 ESE  | 0.03   |
| Stockton 3.4 NNE | T |
| Strawberry Point | 0.04 |
| Tipton | 0.01 |
| Tipton 0.7 N  | 0.10   |
| Vining 0.2 ENE  | 0.14   |
| Vinton | 0.50 |
| Washington | 0.08 |
| Washington 5.8 SW  | 0.03   |
| Waterloo 1.9 SSE  | 0.36   |
| Waucoma 3.2 S  | 0.08   |
| Wellman 4.0 E  | 0.03   |
| Williamsburg 3 SE | 0.82 |