MOLINE, Ill. (AP/KWWL) — More than 10,000 Deere & Co. workers appear ready to go on strike if negotiators can't deliver a new agreement by the end of the day.
The United Auto Workers union has said its members would walk off the job if no deal has been reached by 11:59 p.m. Wednesday.
"ATTENTION MEMBERS: Be prepared for your strike duties," UAW Local 838 wrote in a Facebook post Wednesday evening.
The vast majority of the union rejected a contract offer earlier this week that would have delivered at least 5% raises.
"This 90% rejection of that tentative agreement just shows that they are unified behind the idea of not dividing up their workers along the lines of age," Director of the Rutgers Labor Education Action Research Network Todd Vachon said. 
The union points to John Deere's success in the last year to argue the ag. giant is in a position to pay them more. While Deere was announcing layoffs in the summer of 2020, its stock price has doubled since then. Deer & Co. was trading at $137 per share on 5/3/2020, but on Tuesday, it was selling for $330, according to Market Watch.
Employees told KWWL they are fighting for lower copays on health insurance, higher wages, and better retirement benefits. 
It has been thirty-five years have since the last major Deere strike, but workers are emboldened to demand more this year after working long hours throughout the pandemic and because companies are facing worker shortages.
Vachon said the labor shortage gives leverage to the UAW workers.
"The employer can't afford to lose all of them at the same time," he said. "Any one of you may be could be easily replaced, but the employer can't afford to lose the whole workforce at once. Especially not when there is there isn't a pool, a reserve pool of workers to come in and do the jobs while the workers are out on strike."
On Wednesday evening, negotiations were ongoing between Deere and Company and union representatives at the companies headquarters in Moline. 
A text was sent out by UAW Local 865 in Moline announcing a call to strike. UAW Local 838 in Waterloo said it was sent out by mistake, and union leaders have not called a strike yet.
"The Bargaining Committee is giving Deere & Co. the complete time offer when setting the deadline," UAW Local 838 wrote on Facebook. "WE STAND STRONG, WE STAND TOGETHER, WE STAND IN SOLIDARITY!"
The John Deere Waterloo Operations employee about 5,000 workers in Waterloo at 5 locations: The Deere Tractor Cab & Assembly on Donald Street, John Deere Engine Works on Ridgeway Avenue, the Drivetrain Operations, the John Deere Foundry on Westfield Avenue, and the Product Engineering Center on Cedar Heights Drive. Not all employees are Union members of the United Auto Workers Union Local 838, but all 5 locations will be affected if there is a strike. Around 3,000 Waterloo Deere employees are union rank and file of UAW local 838.
John Deere is Dubuque's largest employer. More than 1,200 are members of UAW local 94.
As of Wednesday afternoon, UAW leaders said they were not confident they would strike. John Deere Engine Works in Waterloo showed some signs of an impending strike. A yellow closed sign was placed on the sign in front of the building. A KWWL crew observed workers putting up temporary green fencing around parts of the facility.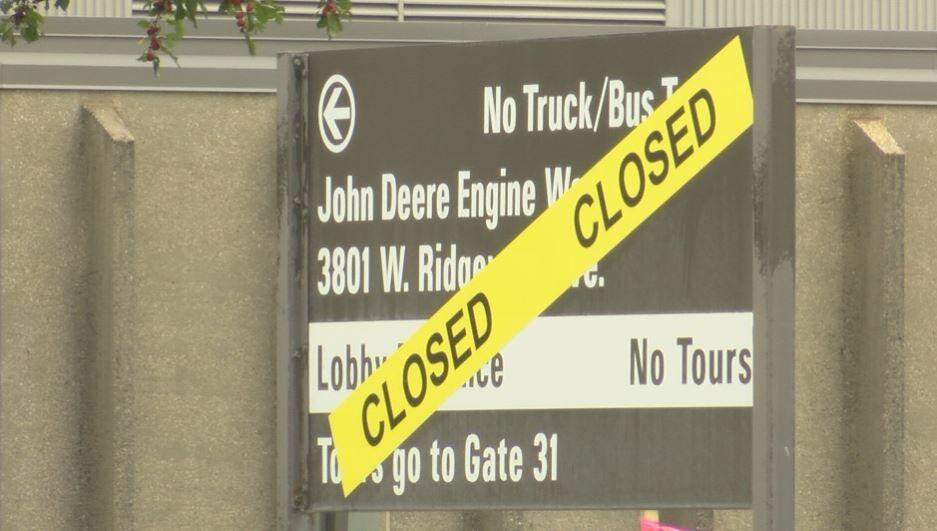 There are three possible outcomes on Wednesday: the two sides could reach an agreement on a new contract, they could extend the strike deadline, or strike.
"Workers don't want to go on strike. They want their jobs. They just want their jobs to pay better and to have better retirement benefits," Vachon said. "Going on strike is a costly, difficult thing for working families because you're not going to be getting your paycheck, and you're going to be tightening up your belt buckle. You have that uncertainty of not knowing how long you may be out of work. It's not something that workers go into joyfully. It's something that's the last resort because they are fed up, and they see that this is what needs to be done."
If the two sides cannot reach a deal, strike duty for UAW members in Waterloo will begin at 7 Thursday morning and continue around the clock until the two sides can reach an agreement.