(KWWL) -- A major, local debate surrounding the John Deere strike by United Auto Workers members is what the average pay is for those on the assembly line. 
John Deere has said the average worker makes about $60,000 a year before taxes. The gross amount was illustrated in a graphic published October 12th meant to show how wages would change if UAW members had accepted the most recent contract proposal. However, a number of workers have reached out to KWWL to contest that estimate.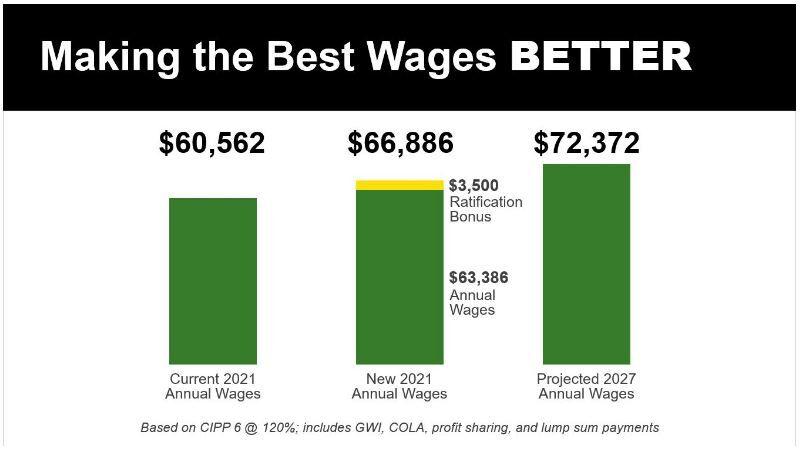 Deere's graphic attributes the estimate to a pay grade of "CIPP 6" at 120% of a team's production goals, profit sharing, lump sum payments, cost of living adjustments, etc. 
In the rejected contract agreement the UAW shared to its website, workers under the same pay level would start out at about $20.80 an hour. Factoring in a 40 hour work week, that means a starting worker would make about $41,600 in their first year. 
Countless viewers have reached out through emails, phone calls, and social media to share that they make well below the average pay. 
KWWL also spoke Tuesday with workers on the picket lines in Waterloo to get a better sense of their thoughts on the pay estimate. While none were authorized to speak on camera, they said it would take a substantial amount of overtime to reach that level. They also say the "CIPP" goals, which is a program that provides a financial incentive to boost production, aren't always reached. 
The overall estimate of $60,000 a year is a national estimate representing thousands upon thousands of Deere assembly workers. A pay stub provided to KWWL by a current employee shows a weekly gross of about $1,000 so that employee likely falls below that average rate. 
Workers aren't just fighting for better wages. Those on the picket lines have said they're looking for better benefits as well, but not at the cost of future employees. The rejected contract would have cut the pension program for those hired after November 1st, switching them to a 401(k) plan instead.