IOWA CITY, Iowa (KWWL) - The school community at Iowa City West High School is dealing with the fallout of racist social media posts this week.
The district says one student threatened another using a racial slur in a video. In a separate post, a white student was photographed in blackface.
The posts circulated over the weekend and on Monday morning, the school held a meeting to discuss what had happened. After the meeting, students started protesting with Black Lives Matter signs in the hallways.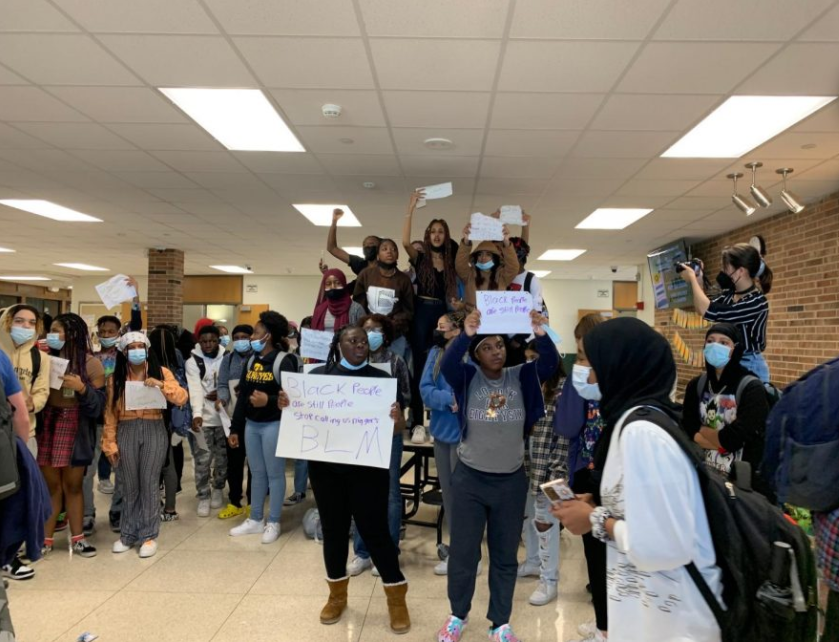 Students went down the hallways, opening classroom doors to spread their message and express anger, according to the student newspaper West Side Story.
"You don't believe how I felt. I felt like, 'Again? Again Iowa City school district?'" Muna Abdalla said, a Sudanese immigrant who had two daughters graduate from West High. Her younger daughter graduated in 2018.
Abdalla says her daughters also had racist things said to them while at West High.
During the school day on Monday, Principal Mitch Gross sent a message to families saying, "Students always have the right to peacefully protest, and our District respects their engagement in social action and honors their right to free speech.  However, a large part of today's protest was disruptive to the learning environment at West High. The administrative team worked to maintain a peaceful environment so that learning could continue. At this time a District team is working to assist in this matter and is currently engaged with the students."
At Tuesday's school board meeting, Superintendent Matt Degner said, "We acknowledge that the initial information shared yesterday did not effectively communicate all our student's perspectives nor the situation that led to the protests. We have a responsibility to look at the ways we provide support to our students to honor and respect their experience."
Abdalla was one of many parents, former students and current students who spoke at Tuesday's meeting, saying there is a repetitive cycle of unchecked racism at the school.
"The sad thing is the students over there, they help our kids more than the counselors, the teachers, the principal," Abdalla said. "I feel like West High is just a dream-killer for the minority kids."
The district says it is working with the Iowa City Black Voices project and the West High Administration team to create positive change. 
"The Iowa City Community School District absolutely condemns any type of discriminatory harassment. This type of behavior is unacceptable and will be addressed through our disciplinary policies. We will not tolerate racism, hate, and other discriminatory acts. We want to make clear our ongoing commitment and support for our BIPOC students, staff, and leaders," Superintendent Degner also said at Tuesday's meeting.
School Board Member Charlie Eastham, who is a part of the Black Voices Project, says it is obvious there is an issue with some white students and teachers being unfair or insensitive at West High.
"I want to listen to your experience and I want to understand what we can do to change your experience," Eastham said.
The district has been working on equity reforms in all its schools since 2018. The district approved a new Diversity, Equity and Inclusion plan in April 2019 with six goals:
Reduce the opportunity gap for structurally disadvantaged students.
Reduce disproportionality in discipline.
Create equitable, inclusive, and supportive school environments.
Attain diverse and culturally proficient teachers, administrators, and staff.
Increase stakeholder engagement (parents, students, and community members).
Create culturally responsive and equity informed district policies and practices.