POWESHIEK COUNTY, Iowa (KWWL) -- The search continued Sunday for missing 11-year old Xavior Harrelson. Sunday, May 30 is Harrelson's 11th birthday.
He was last seen around 11 a.m. Thursday, May 27 in Montezuma.
On Sunday, authorities asked for volunteers to help in their search.
"We have kids," Joy Salls, who drove down from Iowa City to take part in the search, said. If we were ever in this awful situation, we would want the community to come for us, so it's important to give back when you can."
Sall has a daughter who has severe medical issues and special needs and has seen firsthand the support of her community.
"We have so often had the community show up for us when we've been in need," she said. "It is tough. We have to hope and pray that it's a good result."
Sue Taylor skipped her usual weekend walk around Diamond Lake Park to take part in search efforts. For her, like many in the small town of Montezuma, it is personal.
"My daughter graduated from Montezuma, and my two grandkids did go to Montezuma last few years," she said.
Investigators and volunteers were out searching for any sign of Harrelson, and the Iowa Division of Criminal Investigation (DCI) said that this is classified as a missing child case, and not a child abduction.
More than 350 volunteers and 125 law enforcement officers were involved in today's search, along with several sheriff's offices, Iowa DCI, and the FBI.
"As we receive information, we are exhausting those investigative leads," Iowa Division of Criminal Investigations Assistant Director Mitch Mortvedt said. "We are also expanding our search perimeter in and around the Montezuma area."
Yesterday's search focused on a half-mile radius around Harrelson's neighborhood and the nearby Diamond Lake Campground. Children often come to the bikes and trails in the park.
Authorities also had dive teams search the lake at the campground.
"We started with the immediate proximity around his residence around his neighborhood, and as those residences are cleared and everything of that nature, we just keep expanding the circle out," Mortvedt said. "We have been going door to door. Those efforts have gone further around the community."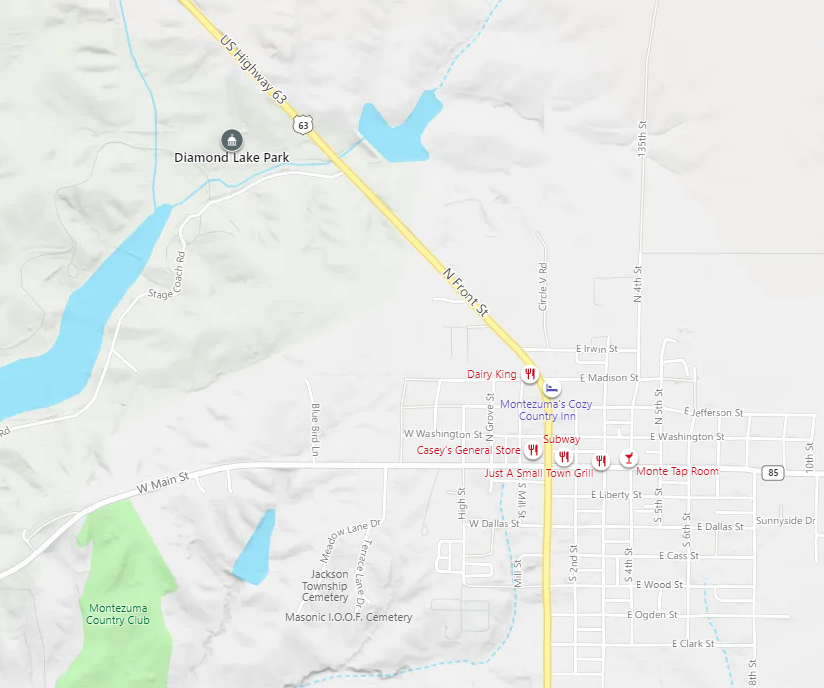 Today, official's expanded that radius to a mile, working in a grid-like pattern.
Mortvedt said the radius was determined by several factors, including probability, Xavior's age, and physical condition. He does not have special needs or other medical conditions.
Law enforcement., volunteers, and the community are holding out hope of finding Harrelson alive.
"We're holding out hope, but we have nothing to indicate anything other than that, you know, we're letting the information that we're getting lead us in the investigation. So yes, we're certainly hoping," Mortvedt said.
The family has been cooperating with investigators and participated in some of the searches on Sunday.
Harrelson was last seen wearing a red shirt, blue pajama pants, and black shoes.
Harrelson has brown hair, blue eyes, and is about 4 ft 8", and weighs 100 pounds.
Susan Boss, who lives about 25 miles away in North English, said as part of the small, tight-knit community of Montezuma, she felt a responsibility to help however they can.
"This is what we do," she said. "In Iowa when people need others we are going to stand up and be right beside them."
Law enforcement officials say they have received tips from across the state, and are following up on each and every tip.
Anyone with information related to Harrelson's disappearance is asked to call the Poweshiek County Sheriff's office at 641-623-2107.
"I implore the public if anybody has any information, even if they may think it's irrelevant, let us be the judge of that," Mortvedt said. "We strongly encourage anybody to call the PoweshiekCounty Sheriff's Office with any information that they may have."
The search parties have concluded their search for the day, and no more volunteers are needed at this time.
Mortvedt said they did not find anything of significance during searches on Sunday. Law enforcement officers will be back in the area on Monday, but there are no future searches planned involving the public.
The Harrelson family has asked the public to please respect their privacy as more thorough searches are ongoing with the DCI, FBI, and Sheriff's offices.