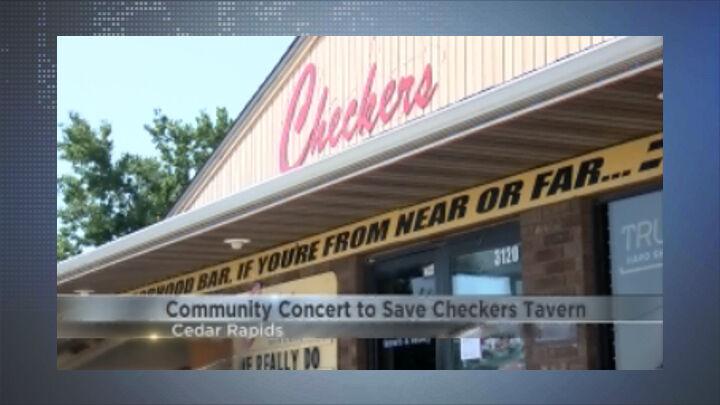 CEDAR RAPIDS, Iowa (KWWL)-- Checkers Tavern has been in Cedar Rapids on 6th St. SW for nearly 30 years-- serving as a staple for local live music, and a hometown bar feel.
After the derecho, pandemic, and years-long construction on 6th, business began to hurt, with closing looming over the owners PJ and Pam Harrington.
Curt Burgess, long-time customer and lead guitarist for local band Slap n' Tickle, knew he had to do something.
"Overtime the customers couldn't get in here anymore, I happened to be in here one night and I overheard a conversation between him and Pam, and they were talking about how they didn't know how they were going to make it through winter," he said.
His solution was a day long free concert, featuring local talent to bring in business to the bar.
 "I had this idea, let's just throw you the biggest party," he said, adding, "I know so many musicians that got their start playing the Jam session he used to host here all the time, so when I announced this, the response from the music community was overwhelming."
The Harringtons' are quick to respond when the community is need-- and to see that response back for them, is moving for the owners.
"We're happy to jump in and do anything anytime for anybody, and we aren't really, easy to ask for help," PJ said.
Adding, "we're beyond words touched by everything. We know by far we're not the only business affected by road construction and make sure you get out and support those place because they need it and they're usually family businesses just like we are, it's not easy and these guys, I mean, all these guys are just phenomenal— can't thank them all enough."
For Burgess- it's just one more way Cedar Rapids shows local businesses they matter.
"We always talk about supporting local there's nothing more local than this place," he said. 
"If we are what we say, and we mean what we say, we'll get out and support local, and we'll come to places like this— even when they're hard to get to," he concluded.
With over 100 patrons showing up to the event, local businesses donating time and resources, and local bartenders volunteering to help-- PJ says he'll always be grateful for the community's support.
"To have everyone show up is just— I would say it's bringing a tear to my eye but it's already done that, so it's just beyond words," he concluded.
To see more about Checker's Tavern including their regular hours and menu, see here.