IOWA CITY, Iowa (KWWL) -- During the COVID-19 pandemic, the FDA has recognized the need for ventilators may outpace the current availability.
On March 22nd, the FDA approved and put out guidance for health care facilities to modify other respiratory devices such as anesthesia machines in response to the COVID-19 public health emergency.
In Iowa, two University of Iowa Student Registered Nurse Anesthetists (SRNA), Rachel Westernik and Sarah Rohde, who are working toward their doctorate, have helped lead the way on how to modify the devices to work as ventilators.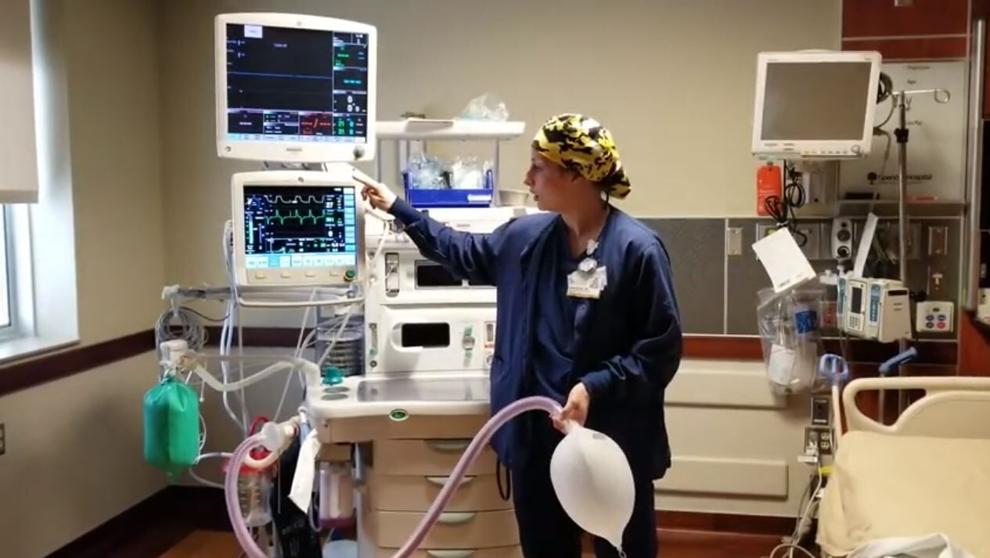 Westernik and Rohde are doing clinical rotations at a rural hospital in Spencer. That's where their clinical coordinator, Dale Kroll (CRNA) asked if they could research the protocols and teach ICU nurses how to make the switch to using anesthesia machines as a ventilator.
"Rural hospitals are not necessarily meant to take care of ventilated patients," said Rohde.
Typically, smaller hospitals would send these types of patients to somewhere larger, such as the University of Iowa Hospital and Clinics.
However, in preparation for cases of COVID-19 Spencer's Clinical Coordinator, Dale Kroll (CRNA) wanted to be ready and asked Rohde and Westernik to research the proper protocols and procedures.
"What they would do with alarms and things like that because it is an anesthesia machine first and then it has a ventilator component. So you can't only ventilate the patient on that, there are other things that need to be taken into consideration," said Rohde.
"Which is good because here at Spenser alone we have only like three ventilators that we can use in the ICU. So, in order to help maximize what we have as ventilators, we can convert those anesthesia machines to become ventilators you know, temporarily," said Westernik.
So far, they've taught two courses to ICU nurses at Spencer and even made an education video for reference. They hope the demonstrational video helps providers across the county as the machines function very differently.
For instance, an anesthesia machine needs to be staffed 24/7 whereas a dedicated ventilator machine does not need constant supervision.
"It just needs a lot of tweaking and modifications as well as awareness because the anesthesia machine, there's a lot of safe proofs on it," said Westernik.
"With the pandemic, you're seeing an acute rise in how many people need mechanical ventilation and that is why Spencer is having to look for all their resources and figure out how they're going to take care of the sick patients," said Rohde.
During yesterday's news conference in Johnson County, UIHC's Chief Medical Officer, Theresa Brennan said utilizing anesthesia machines is also part of their surge plan. The hospital has already begun to train staff in tasks outside of daily duties.
"Respiratory therapists are certainly relied on greatly when patients are intubated and require a ventilator. We have a surge plan that looks at how many we require as well as how we will supplement them with anesthesia techs as well as potentially others. We have begun training our nurses for various duties that may be outside of their normal daily activities," said Brennan.
Rohde and Westernik hope their instructional video can help make nurses and respiratory therapists more comfortable with the transition.
"Everyone in this time of need is being called to do things that they're not used to doing and so that's especially scary when someone's life is in your hands and you have to mechanically ventilate them and their lungs are sick," said Rohde.
Rohde and Westernik both have four-years of studying critical care at a teaching hospital. After having hours of training invested in their abilities they said they're grateful to now pass that knowledge on and help be a resource for others.
Right now, there are 122 Iowans currently hospitalized for COVID-19, according to the Iowa Department of Public Health.