CEDAR RAPIDS, Iowa (KWWL) — Cedar Rapids' downtown district has come up with a unique way to get people to explore the downtown in a different way in hopes of boosting business for locally owned retail shops.
It's a summer passport program created in part by the Metro Economic Alliance to increase business for retails shops after a tough winter caused some businesses to close their doors for days.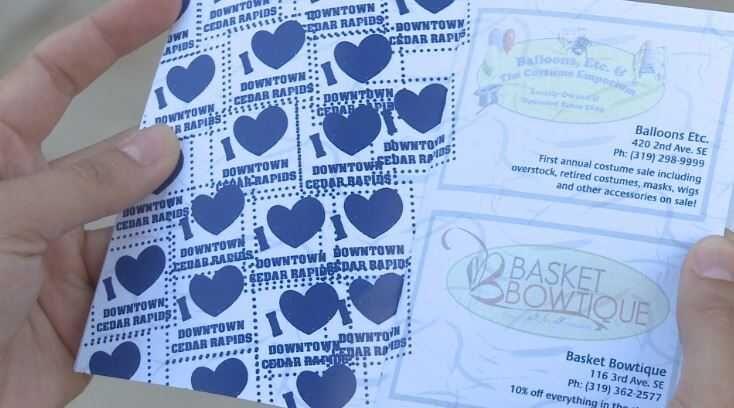 "It was a tough winter and now the construction now, so it's kind of a double whammy," said owner of Basket Bowtique, Linda McConnell.
McConnell has been customizing gift baskets at her store for the past 27 years, almost all of those years have been spent downtown.
While Basket Bowtique doesn't rely completely on walk-in traffic, McConnell said she'd always like more, "Buying online has really changed things."
Now she's one of the 12 businesses trying a new downtown shop local initiative.
"I think a lot of us come to work, get our work done and leave downtown. We'd like people to stay and explore, you know what is downtown? We've got a lot more than restaurants," said McConnell.
Almost all of the participating businesses are retail shops that may not always stand out when someone thinks downtown said Jesse Thoeming, executive director or the Downtown District, "We put a lot of effort and time into restaurant week earlier this year and so we wanted to focus on as more of the shops."
Pretty Lane, a new beauty boutique on 3rd Street is also another stamp in the passport.
"We really wanted to be apart of that," said makeup artist, Zoe Harrison, "We're normally based around women and it's a good way to get anybody down here, older people, younger people."
Pretty Lane is new to downtown after moving from the Dostal House in Newbo earlier this year.
The program has helped get new and unexpected faces into the store said Harrison, "[It's] A lot of people that normally wouldn't stop in. Like I had a couple of people on bicycles that were coming in that were getting their passports stamped who were older and her husband was with her, so that was really cool."
After participants fill up the passport with a stamp from each business and at least two of the five community events, they can be entered to win a grand prize.
There are three grand prizes, the biggest is valued at $1,000 and includes a four-course chef dinner at Popoli Ristorante & Sullivan's Bar inside the historic vault and a night at in the DoubleTree's by Hilton's Presidential Suite. More details can be found here. 
At the end of the summer, the Economic Alliance has asked the businesses to run the numbers comparing this summer to last summer to see how effective the program was at giving the businesses a boost.
The passport program started on June 21st and runs until September 23rd at 4:00 p.m..
Passports can be picked up at the Metro Economic Alliance at 501 First St. SE, the Gazette at 500 3rd Ave SE, or any of the participating shops or at the community events.
Those include:
Balloon's Etc., 420 2nd Ave. SE
Basket Bowtique, 116 3rd Ave. SE
Cedar Rapids Downtown Farmers' Market, July 6 & 20, Aug. 3 & 17 & Sept. 21
Cedar Rapids Public Library – Summer Party in Greene Square, July 27
Della Viti, 203 1st Ave. SE
Food Truck Fridays,
Greene Square, June 21, July 12, July 26, Aug. 9, Aug. 23
Freedom Festival Fireworks, Downtown Second Ave. Bridge, July 4
Gooselake Creations, 705 3rd Ave. SE
Iowa Brewing Co., 708 3rd St. SE
Kamal's Flooring, 630 2nd Ave. SE
Kieck's Career Apparel, 222 3rd Ave. SW
Market After Dark, Aug. 24
Marie's Jewelry, 125 3rd Ave. SE
Pretty Lane, 312 3rd St. SE
Rustic Chic Boutique, 207 2nd Ave. SE, Suite 300
Simply Divine, 123 3rd Ave. SE
Top Notch Boutique, 711 3rd Ave. SE