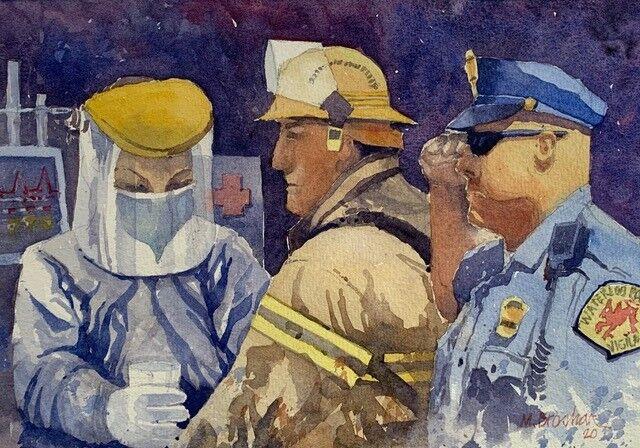 UPDATE (May 7):
A local artist is stepping in to help with the Waterloo Community Foundation's First Responders Fund.
Michael Broshar, a Waterloo native and local architect, has designed and donated the above watercolor, featuring a local firefighter, policeman and healthcare worker.
Signed prints are being offered for $150 each. Orders must be placed by June 15. Mail checks to:
Waterloo Community Foundation
PO Box 1253
Waterloo, IA 50704
The Waterloo Community Foundation will match each dollar donated to the fund up to $5,000. Proceeds above the cost of production will go to the Waterloo Community Foundation.
________________________
Original story (April 30):
WATERLOO, Iowa (KWWL) — The Waterloo Community Foundation has announced the establishment of the First Responders Fund that will aid local police, fire and health care workers during the COVID-19 crisis.
From now through May 31st, the Foundation will match all donations up to $5,000. 100% of all donations will go directly to local first responder organizations (no administrative fees will be withheld).
Foundation President Wilfred Johnson says ""we want to join in supporting our amazing first responders, as they work day and night to keep us safe during this Coronavirus pandemic. The entire community is invited to participate. Whether it is $5 or $500 -- every little bit helps."
Gifts can be made on their home page or on their Facebook page. Donations may also be mailed to the Waterloo Community Foundation: PO Box 1253, Waterloo, IA 50704, with a "First Responders Fund" notation.
In the previous month, the Waterloo Community Foundation contributed $10,000 to the Black Hawk County Disaster Fund, a community-wide effort that backs organizations coordinating pandemic response efforts. This includes the Black Hawk County COAD (Community Organizations Active in Disaster).