CEDAR RAPIDS, Iowa (KWWL) -- Former combat veterans rode cross country on bicycles and as they passed through the Hawkeye state, they have been greeted with warm welcomes.
Former Army Colonel, Jay Waters, and Navy Search & Rescue Swimmer, Paul Cook, were selected out of 400 applicants to be among the few to ride 3,700 miles on the Great American trail in the 'Warrior Bike' Program.
The 'Warrior Bike' Program, is a part of the Warrior Expeditions, a non-profit out door therapy program that supports veterans transitioning from military service back into society.
"We're both cycling across America for physical health and wellness improvement," Cook said.
And the open road is meant to heal wounds from a life of combat. Cook said he and Waters get to spend a lot of time digressing on the ride about issues that have been mentally frustrating for the both of them.
Waters and Cook are riding on army green bikes, which is most likely the giveaway that they are military-related. They say the Iowa trails have been beautiful to ride on, and even Iowa farmers have been curious and stopped to ask them about their story. Other Iowans have also been stopping off to the side of the road to offer them bottles of water or shelter for the night.
"Just the hospitality of people letting us stay at their place in the rain, or people pulling off to the side of the road giving us water has been like … It's never happened to me before. The kindness of people has been really great," Cook said.
Iowa has presented many chances to pay tribute to the veterans who came before.
"What we've been trying to do is stop at as many American legions, VFWs, or memorials like this," Waters said as he pointed to the stained glass window the Cedar Rapids Veteran Memorial Building. "It always makes me feel a little bit humble, and reflective that ya we did a lot of stuff, but these guys did a lot of stuff too."
While in Cedar Rapids on Monday, Waters said they ran into an 89-year old gentleman named Dickie Eagan. Eagan served with the Army in the Korean War, and they shared many stories between each other of their service.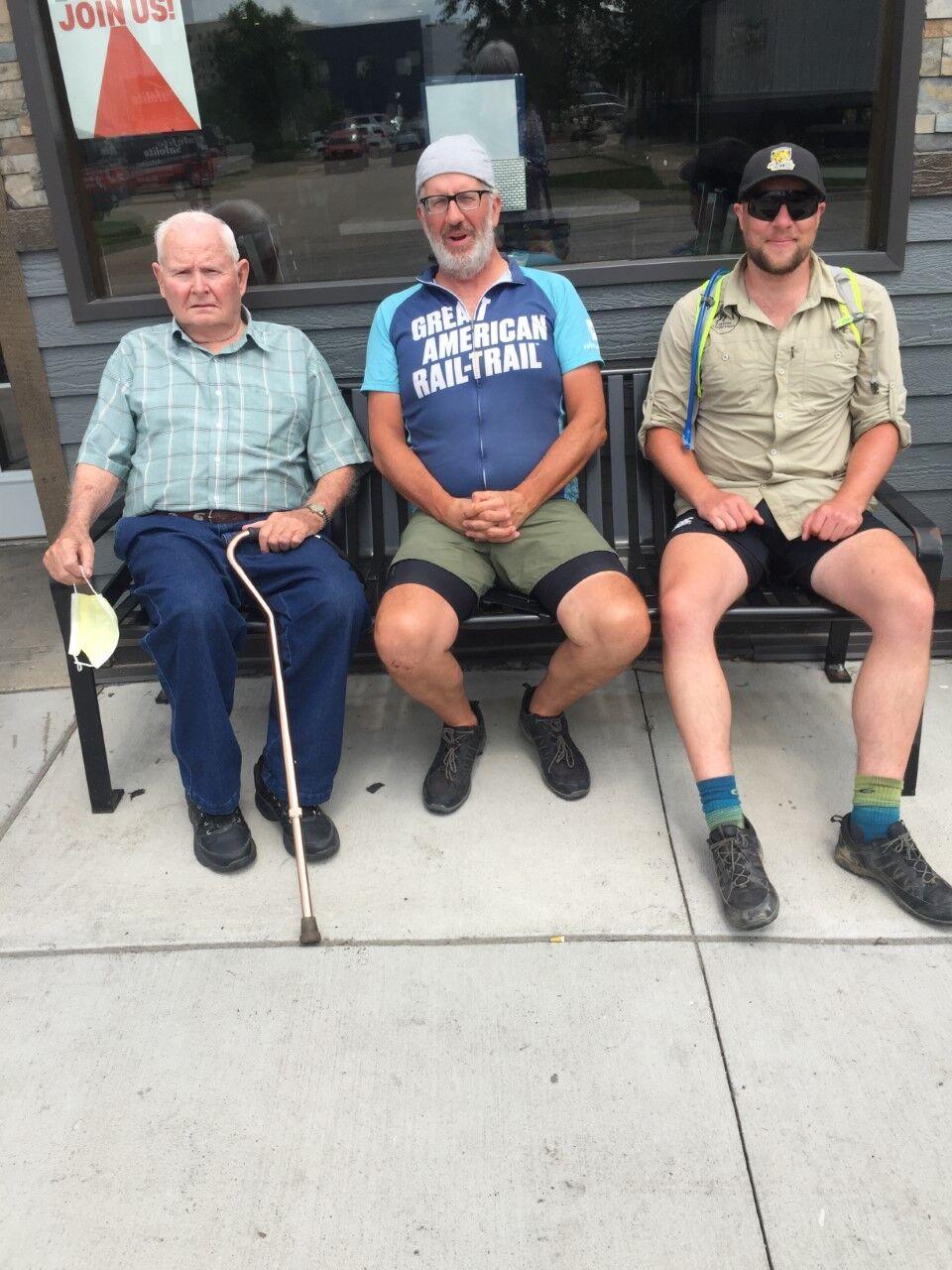 Iowa has also presented many chances for Waters and Cook to be treated to some proper Midwest hospitality. Tonight, they're staying with a family in Cedar Rapids who's offering them their first taste of 'Iowa Chops.'
"We're going to feed them full of a quintessential Iowa dinner tonight, and just swap stories," Jenny Bosking, a Cedar Rapids host, said. "I love to meet new people, and I'm proud of Cedar Rapids and I'm proud to host people and tell them all about why life is special in the Midwest."
On Tuesday, the two will continue their powerful journey through Iowa and will arrive in Waterloo to meet with the Black Hawk County Veteran Affairs.
"It's a good way of healing too, and meeting all this people really restores your faith in humanity, the kindness of people has been really great, especially in the Midwest," Cook said.
They're posting their journey on Facebook, so if you'd like to follow or even connect with them while they're in town, CLICK HERE.