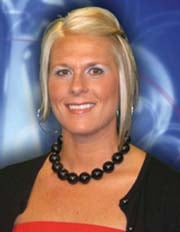 (319) 291-1224
lortner@kwwl.com
Lesley started at KWWL in 2002 and really enjoys working at KWWL, "I have had the opportunity to work with a wide spectrum of businesses which keeps my job exciting. I work with companies as large as the Toyota Dealers in our viewing area to any local business here in Eastern Iowa. I enjoy learning about the goals and objectives of businesses, taking that information and developing a marketing plan to help them to achieve those goals, grow their business and move the needle. I take great pride in helping my clients succeed!"
Lesley graduated from Maquoketa High School and Wartburg College with a double major in Business Marketing and Management. While at Wartburg, she played Softball and Rugby and was active in a variety of organizations. She still enjoys cheering on the Wartburg College, especially the Wrestling team where her husband coaches…GO KNIGHTS!
Lesley and her husband, Chris, have two young children who are lots of fun and keep them very busy!