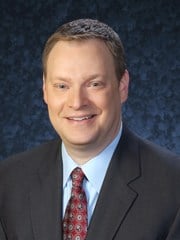 Bob Waters
Bob WatersAnchor/Reporter
Emmy-winning anchor Bob Waters has been interested in broadcasting since he was in 4th grade. As part of a job shadow day, he tagged along with a photographer at the local NBC affiliate. The photographer let him "shoot" a weather shot. It aired on the 6 o'clock news and he knew from there on he wanted to be involved in television.
Bob's a native "Tar Heel". He was born in Charlotte, North Carolina. He has two older sisters who he says tormented him for much of his childhood (their favorite prank was getting him to stand next to the TV when it said "Please Stand By". He says they still try to use that one on him.).
Bob's a graduate of the University of Mississippi where he majored in Radio/TV. After graduation, he worked at TV stations in St. Joseph, Missouri, Lake Charles and Baton Rouge, Louisiana, and Champaign, Illinois before moving to KWWL in 2005 to anchor the weekend newscasts.
He won a Regional Emmy while anchoring Today in Iowa in 2011 and has received many other awards and accolades over his nearly 20-year career in broadcasting. Bob's a big movie buff, a decent bowler, loves to travel and see new things.
Send an email to
Bob
Like Bob on Facebook