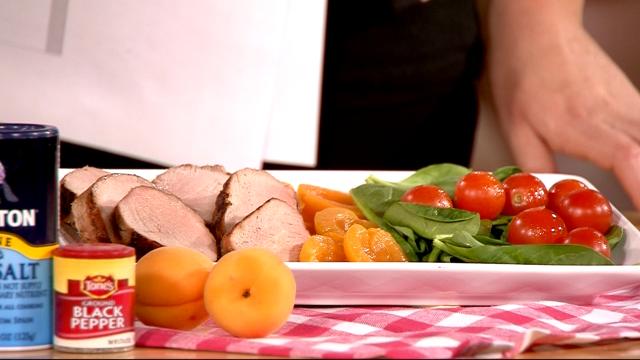 WATERLOO (KWWL) -
Ingredients:
(initial glaze for marinade)
-12 oz. summer ale
-1 Tbsp apricot preserves
-2 Tbsp white wine vinegar
-2 Tbsp mustard
-2 Tbsp garlic powder
-1 tsp dried parsley
-1 pork tenderloin (about 1 to 1 and a half pounds)
(second glaze for serving the pork)
-1 cup apricot preserves
-1 tsp garlic powder
-2 Tbsp white wine vinegar
-1/2 tsp dried parsley
-1 pinch salt
-1 pinch black pepper
Combine first six ingredients for the marinade.
Add pork and refrigerate four to six hours.
Season tenderloin with salt and pepper.
Grill over medium heat for 20 to 25 minutes or until the internal temperature is 145 degrees.
Meanwhile, heat remaining ingredients in a sauce pan for the glaze. Simmer for five minutes, adding water if necessary.
Brush the tenderloin with the glaze. Grill just long enough to caramelize the sauce (1 to 2 minutes).
Let pork rest for 3 to 5 minutes before slicing.