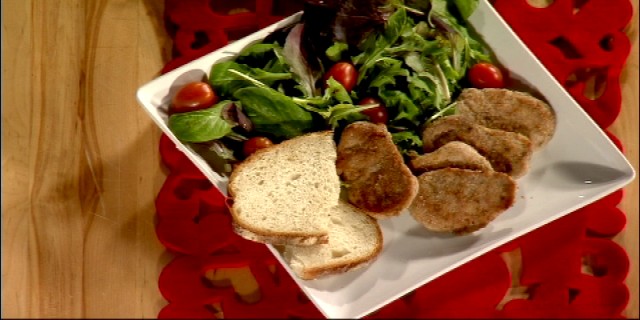 WATERLOO (KWWL) -
This Valentine's Day you might want to whip up a multi-course meal that's also heart healthy as a way to impress your sweetheart.
------------------------------------
Appetizer: shrimp cocktail
------------------
Entrée: Parmesan Pork Tenderloin
Pork tenderloin received the American Heart Association's Heart Check for each serving containing less than:
6.5 grams of total fat
1 gram of saturated fat
0.5 grams trans fat
20 mg cholesterol
480 mg sodium
And 10% or more of the Daily Value of one of six key nutrients (vitamin A, vitamin C, iron, calcium, protein or dietary fiber).
Total time: 30 minutes
Makes 4 servings
Ingredients
1 pound pork tenderloin
3 Tbsp. bread crumbs
1 Tbsp. Parmesan cheese, grated
1 tsp. salt
1/8 tsp. pepper
1 tsp. oil
Cooking Directions
CUT tenderloin crosswise into 12 slices, approximately 3/4-inch thick. PLACE each slice on its cut surface and FLATTEN with heel of hand to 1/2-inch thickness. COMBINE crumbs, Parmesan cheese, salt and pepper; DREDGE pork slices to coat. HEAT oil over medium-high heat in nonstick pan. SAUTE pork for 2 to 3 minutes per side; REMOVE and KEEP warm.
Nutrition information per serving: 168 calories; 9 g fat; 2 g saturated fat; 51 mg cholesterol; 279 mg sodium; 5 g carbohydrate; 1 g fiber; 17 g protein