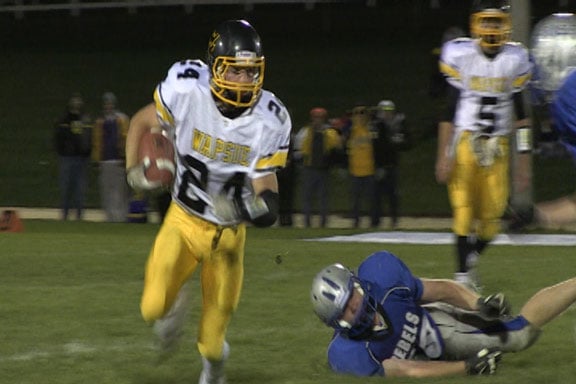 REINBECK (KWWL) -
In Class A, Gladbrook-Reinbeck played host to unbeaten Wapsie Valley.
The Rebels would threaten on their first possession with a drive that took all but 2 and a half minutes of the first quarter.
But on 4th and goal at the 3, Nolan Schmitt would get into the back field and force a fumble. Gladbrook-Reinbeck would recover, but the Warriors would take over.
Wapsie Valley would get on the board first. Stone Kane would not be denied after being stopped initially. He fights in for the 3-yard TD. The Warriors go up 7-0.
On the Rebels' next possession they would drive all the way to the five. But after a run for a loss of 6, a sack for a loss of 12 and a clocked ball, it would be 4th and 23.
QB Camden Kickbush would throw up a prayer that would be answered. Chase Clark came down with the ball for the TD. Then they would go for 2.
It would be Clark again, this time pounding up the middle to give Gladbrook-Reinbeck an 8-7 lead at half time.
Wapsie Valley would come back in the second half to remain unbeaten. The Warriors win 20-15.