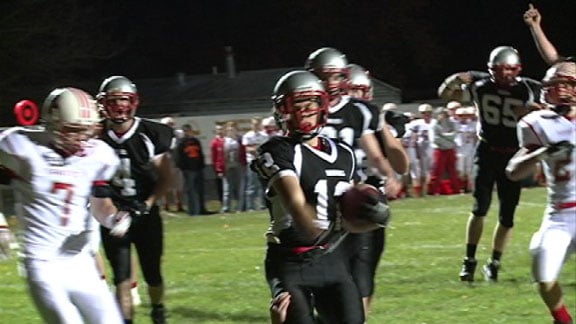 PLAINFIELD (KWWL) -
St. Ansgar comes into the game with a 7-2 record and a four-game winning streak, while Nashua-Plainfield is 6-4 and earned a playoff berth on the final Friday with a big win over South Hamilton.
The Huskies opened with the ball and go 80 yards on eight plays, capped by Zade McCall breaking tackled up the middle for a 10-yard touchdown and a 6-0 lead.
The Saints responded with a drive of their own. 3rd and 13 from the 16, and Kyle Hanson took the reverse around end and into the end zone for a 7-6 lead.
On the first play of the second quarter, St. Ansgar bobbles the snap and Jason Fischer picks it up and rumbles 28 yards to give the Huskies a 12-7 lead.
On the ensuing Saints drive, Scott Sievert take one into the end zone from 2 yards out to give the Saints a 14-12 lead.
Then just before the half, Jordan Klingman throws a great pass on 3rd and goal from the 7 as Hunter Muller makes a spectacular catch keeping one foot in bounds to give the Huskies a 20-14 lead.
And it would take overtime to settle this one, as Nashua-Plainfield gets the 33-27 victory and they advance to play North Fayette Valley on Monday, Nov. 4.

Written by Matt Haupert