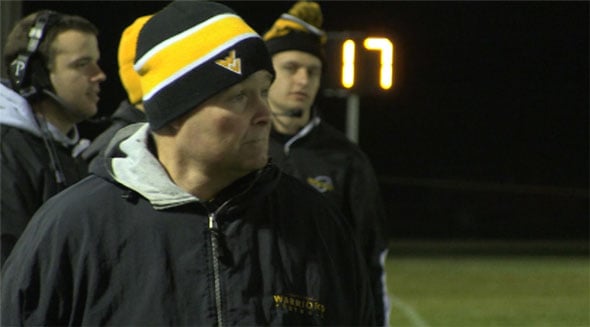 FAIRBANK (KWWL) -
Second-ranked Wapsie Valley began its Class A state title defense against Belle Plaine.

Wapsie Coach Tony Foster going for win number 100.
The Warriors start fast. Ethan Kleitsch would score three touchdowns with runs of 13, 8 and 10 yards.
An interception by Derek Trotter would set up a Stone Kane 10-yard TD run. Wapsie Valley led 28-0.
Ethan Kleitsch would score his 4th TD of the half on a 44-yard run down the sideline. That put the Warriors up 35-0.
Ryan Millar would connect with Derek Trotter from 11 yards for the final score of the half. Wapsie Valley led 41-0 at the break.
Coach Foster would get win number 100 as Wapsie Valley rolls to a 48-6 victory.