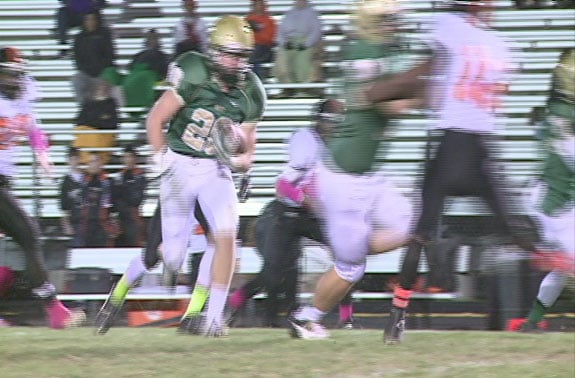 IOWA CITY (KWWL) -
It was a battle of two different Trojan teams in Iowa City Friday night.

Iowa City West is preparing for the playoffs while Waterloo East will wrap its season up after the game. Many people in the Cedar Valley were hoping that East High would go out with a win, but that was just not the case.
The West High Trojans would bust out on Senior night. West High would cap off their first drive with a 3-yard run by fullback Micah Kelsay.

The green and gold would go for two and Kelsay would bulldoze his way into the end zone for two more points. West High would take an early lead of 8 to nothing.
Still early in the first, quarterback Nate Boland would roll out to his right and hit Anthony Batie at the goal line. Batie would dive for the pilon and make his way into the end zone. With the extra point the West High Trojans would go up 15 to nothing.
Still in the first, East High would punt to Devin Raffensperger, who would find a lane and run more than 50 yards to the end zone. With the extra point, West High would go up 22 to nothing.
In the middle of the second quarter, the green and gold would keep adding points to the board. West High would cap off another drive with a 5-yard run by Kevin Dowel. After the extra point, that would make the score 36 to nothing with the West High Trojans rolling.
It would not get any easier for Waterloo East in the second half. Iowa City West would dominate this game winning by a score of 63 to nothing.

Written by John Wilmer