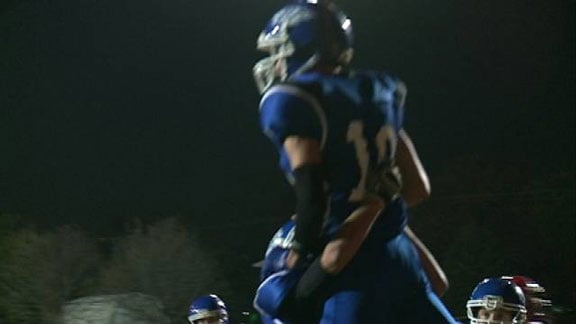 DIKE (KWWL) -
Throw out the records anytime Aplington-Parkersburg and Dike-New Hartford meet on the gridiron.

Friday night the third-ranked Wolverines were savoring the opportunity to beat the Falcons --and give A-P its first losing season since its 1991 consolidation.
After the Falcons opening drive stalls they were forced to punt and Byron Fritch comes up with the big block and Connor Ragsdale jumps on it at the 26.
Two plays later, Carson Parker taking it himself up the middle for 8 and the touchdown -- 7-0 D-NH.
On the ensuing Falcon drive, 4 and 3 from the Wolverine 21, and Corbin Brungardt takes it himself around the outside and to the house to knot the game at 7-all.
The Wolverines would respond as they march the field and Levi Lynch shedding would-be tacklers up the middle for 15 yards and a 14-7 lead.
In the 2nd the Falcons were looking for more but a goal line stands forces a Nick Waller 27-yard field goal to cut the lead to 4 and make the score 14-10.
On the ensuing Wolverine drive, they were looking for more, and Parker finds Preston Wheat weaving his way in and out-- takes it 60 yards down to the 2.
That sets up Levi Lynch to give the Wolverines 21-10.

Falcons respond Brady Frey from one yard out, 21-16 D-NH.
Opening drive of the third the Wolverines would put in another touchdown, and they go on to win 40-16.

Written by Matt Haupert