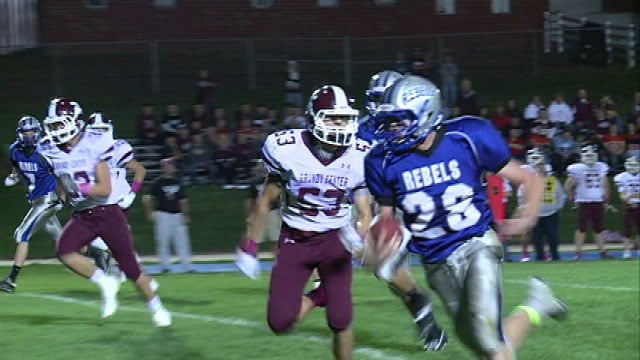 GLADBROOK (KWWL) -
Both Grundy Center and Gladbrook-Reinbeck are unbeaten in district play. Gladbrook-Reinbeck is 3-and-0 while Grundy Center is 4-and-0. With a Grundy Center win, they would clinch the district title.

But it wouldn't quite happen like that.
After the Spartans went 3 and out, the Rebels waste little time as Camden Kickbush takes it in from 1 yard out -- 7-0 Rebels.
Then after a missed Spartans field goal attempt, the Rebels would drive again and Chase Clark breaks one to the outside for 40 yards, giving the Rebels a 14-0 lead.
So we move to the second, and Chase Clark takes it around left end for 10 yards and his second touchdown of the half to make it 21-0 Rebels.
Later in the quarter, Chase Clark gets his third touchdown of the half from 2 yards out to make it 28-0. That's 201 yards rushing and 3 touchdowns in the first half for Clark.
Then, with the half winding down, Spencer Goos pounds one in from 2 yards out to make it 35-0 Rebels, and they go on to win easily tonight 42-0.

Written by Matt Haupert