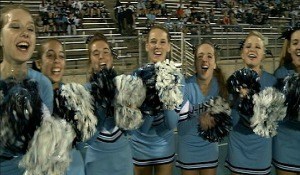 WATERLOO (KWWL) -
Cedar Rapids Jefferson rode the passing and running of quarterback Layne Sullivan to a 37-20 victory over Waterloo East Friday night at Memorial Stadium in Waterloo.
Sullivan had an incredible night, as he passed for 167 yards and rushed for 159, including an 83-yard touchdown run.
Jefferson took a first quarter lead, as Nicholas Rocha kicked a school-record 46-yard field goal. Rocha had three field goals on the night.
Later, Layne Sullivan passed 86 yards to Chancy Floyd for a Jayhawk touchdown and Sullivan rushed for another Jayhawk score, as Jefferson took a 17-0 lead.
East finally got on the scoreboard on touchdown pass from John Magnusson to Aryeh Miller.
East closed the gap late the first half when Magnusson hit Javon Middleton on a 47-yard touchdown pass and found Middle again for the 2-point conversion.
But Jefferson led 20-14 at half, and went on to beat Waterloo East, 37-20.
The Trojan loss overshadowed a 217-yard passing performance from junior quarterback John Magnusson.
The victory gives Jefferson a 1-4 season record, while East is still winless at 0-5.