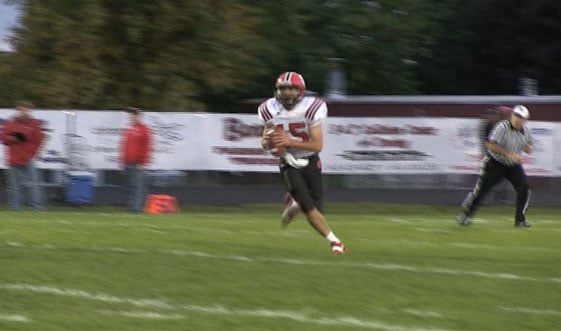 NASHUA (KWWL) -
Unbeaten and ranked ninth in Class 2A, New Hampton paid a visit to Nashua-Plainfield for a non-district matchup.

Nashua-Plainfield would get on the board first. On the second play of the game, Jason Fisher nearly went untouched on a 78-yard score to put the Huskies up 7-0.
But the Chickasaws would come right back. Cole McDonald would find Trevor Ambrose on fourth down. He ran through one defender and beat another to the pylon for the 29-yard TD. New Hampton would trail 7-6 after the missed extra point.
The air attack would continue. McDonald connected with Tanner Rentschler for a 6-yard TD, and later find Kyle Smith for another 29-yard TD to put New Hampton up 21-7 at halftime.
One the first possession of the second half, Cole McDonald would find Smith again for a 5-yard score to give New Hampton a 28-7 lead.
Cole McDonald would throw 5 TD's on the night as the Chickasaws would go on to win 40-7 over Nashua-Plainfield.