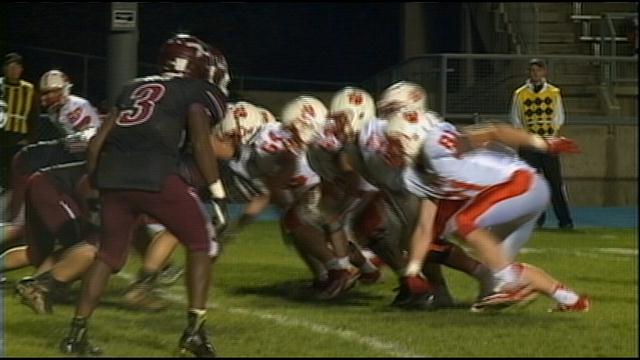 WATERLOO (KWWL) -
In Class 4A, you have to go back to the mid-90's to find the last time Cedar Falls lost on the football field to Waterloo West.

That streak ended tonight.

The Wahawks come out fired up to get their first win in the series since 1996.

But a bad snap on a West High punt leads to the first score of the game -- the ball is kicked out of the end zone for a Cedar Falls safety -- and it's 2-0 Tigers.

But West takes advantage of a Cedar Falls mistake -- the Tigers' Lewis Mickey with the missed punt. The Wahawks recovered.

Kedo Osmancevic nailed a 25-yard field goal to give West a 3-2 lead.

Cedar Falls charges back. Eli Berregard, behind the blocking of All-American offensive lineman Ross Pierschbacher, scores on a 5-yard run to give the Tigers a 9-3 lead.

But West High rallies. Quarterback Alex Young fires a 13-yard touchdown pass to Jalon Jones. The extra point is blocked, and the game is tied at 9 at halftime.

And tonight, Waterloo West ends 17 years of agony, beating Cedar Falls 17-16, and handing the Tigers their first loss of the year.