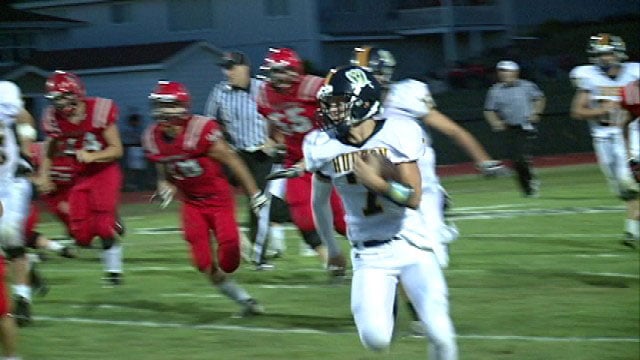 PARKERSBURG (KWWL) -
After opening with a 51-13 win over Class A North Tama, Aplington-Parkersburg fell hard to the Union Knights last week 37-13. Hudson bounced back from a 34-6 loss to Gladbrook-Reinbeck in game one with a solid win over East Marshall in week two.
The Falcons wasted little time at home opening the game with a 7-play, 66-yard drive capped by a 31-yard pass from Cody Ryan to Alex Johnson to give the Falcons a 6-0 lead.
On the ensuing drive, Ryan comes up with a Falcon interception and the Falcons put together another drive and on third and goal from the 5, Tyler Duster goes flying through the air and he finds pay dirt to give the Falcons a 12-0 lead.
The Pirates would regroup and put together a drive of their own. On the first play of the second quarter, Cameron Wright runs one into the end zone to cut the lead in half 12-6.
After a Falcons 3-and-out, Wright is at it again. 3rd and 3 from the 50, and Wright calls his own number up the middle for 50 years to give the Pirates a 13-12 lead.
Later in the quarter Wright throws one up top to number 8 Ross Anderson who snatches it away and is able to walk into the end zone on the 53 yard completion, which gives the Pirates a 20-12 lead.

The Pirates go into Parkersburg and steal a 30-12 victory.

Written by Matt Haupert