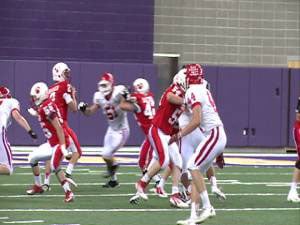 CEDAR FALLS (KWWL) -
Cedar Falls is ranked 6th in Class 4A after beating City High and Waterloo East. Cedar Rapids Washington was seeking its first win of the season--the Warriors lost their first two games to Kennedy and Iowa City West.
Early on, this game was simply a defensive struggle. The Tigers and the Warriors could not get anything going on the offensive side of the ball.
The Warriors finally made things start clicking after the Tigers forced them to punt. Cedar Falls' Lewis Mickey would field the punt, but the Warriors would strip it from him and recover the ball on the Tigers 35-yard line.
Fourth and inches and number six Mason Taylor, the Warriors go to back the entire quarter, busts one for 17 yards.

Three plays later, Reid Snitker takes five steps and zings one to number seven Clayton Bjornsen across the middle for a four yard TD strike. Warriors 7, Tigers zip, with 1:42 left in the half.
Twenty seconds later, the Warriors make a huge error and cough it up on their own 25. Three plays later, the Tigers' number 25 Eli Berregaard takes it in from the six for the touchdown. The extra point was good.
The Tigers walk into halftime receiving a huge gift -- tying it up seven all.
Cedar Falls goes on to win after only having a total of 41 yards in the first half. Final score: Tigers 21 and the Warriors 7.