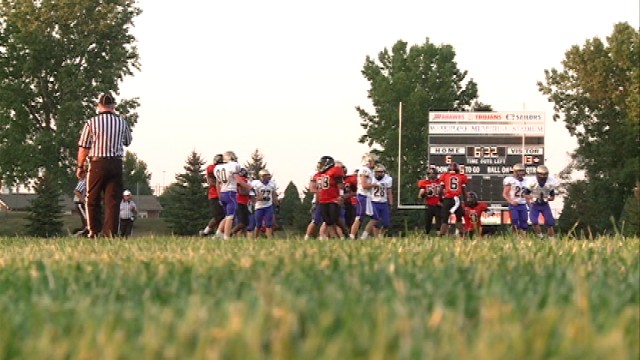 WATERLOO (KWWL) -
Friday night football turned into Saturday night football for a match-up between Waterloo East and Dubuque Wahlert. The high school game not only started late Friday night because of heat, but officials ended up postponing the game after lightning.

Craig Young, a Waterloo player's dad, was among the spectators in the crowd Friday night.
He waited more than two hours with his family for officials to make the decision to postpone the game.

"They could have made the decision a lot sooner than what they did," said Young.

While the decision to postpone last night's game at 11:30 Friday night was an inconvenience for some people, officials said making the decision involved a lot of factors.
"We did the best we could with the information we had," said Al Pace, the athletic director for Waterloo East.

Pace said the weather forecasters were not accurate in their prediction of when the storms would pass; he also said officials wanted to make sure the players and approximate 1,500 fans were pleased, though he admitted there was no pleasing everyone.

"Obviously with the first game of the year, we would have wanted everything to go well and smooth, and it certainly didn't," he said.

Pace said it is policy for players to wait for 30-minutes after a lightning strike before resuming the game, and because there were so many lightning strikes Friday night, they made the decision to postpone the game.

"The biggest issue quite honestly is the safety of kids and the fans in the stands, and that's what we really tried to think about," he said.