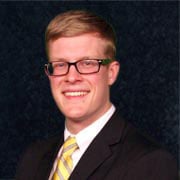 Michael Crowe
Michael is a native Iowan, and grew up in the Quad Cities. From there, he spent his undergraduate years at Luther College in Decorah, where he studied English with a writing emphasis. There, he caught the journalism bug, and spent 3 years writing for (and eventually editing) the college paper, Chips. It was there that he learned how much news matters to communities, no matter the size.
In 2011, he began working for KWWL as the Decorah stringer, covering occasional local stories. He also frequently shot games for Friday Night Football, and had the pleasure of following the Decorah Vikings to their undefeated state championship. A year and a half later, he was excited to be joining the Channel 7 news team in Waterloo.
What Michael loves most is that the news business is so unpredictable. Every day, you discover something new. He hates being tied to a desk, and loves that his job has him out and about every day, meeting new people and telling their stories.
In his free time, he enjoys cycling, coffee, cooking, and bad puns. He is looking forward to becoming more acquainted with the Waterloo-Cedar Falls area. He welcomes story tips, and advice on great cycling routes.
Michael Crowe took home 1st place in the Large Market - General Reporting category for his piece on pediatric medical marijuana at the Iowa Broadcast News Association awards on May 3, 2014.