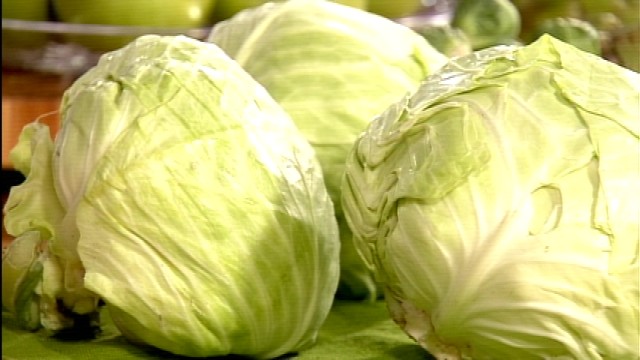 WATERLOO (KWWL) -
CABBAGE
Nutrition in One Cup of Cabbage
◦ 25 calories
◦ excellent source of Vitamin C, which is important for healthy skin and a strong immune system
◦ excellent source of Vitamin K, which supports bone health
◦ 2 grams of fiber, which helps support a healthy digestive system and satisfies hunger
How to Buy Cabbage: Look for a firm head that's heavy for its size and has crisp leaves with no signs of browning or withering.
How to Store Cabbage: Wrap tightly in plastic and store in the refrigerator for up to 7 days.
How to Enjoy Cabbage
◦Shredded. Shred raw green and Napa cabbage and serve with a sesame-ginger dressing.
◦Sautéed. Sauté red cabbage, grated apple, diced onion and raisins.
◦Stuffed. Stuff cabbage leaves with lean ground turkey and whole-grain rice. Steam and serve with a tomato sauce.
◦Soup. Make cabbage soup with white beans, chopped tomatoes and onions and lean sausage