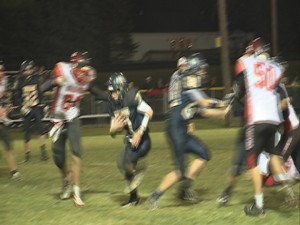 HUDSON (KWWL) -
The Hudson Pirates are playoff bound in Class1A, following a 48-36 District 3 victory over West Fork Friday night in Hudson.
The Pirates scored just one minute into the game on a two-yard touchdown run by Connor Wrage.
Cameron Wright's 41-yard touchdown scamper put Hudson up 14-0. The Pirates also had an 80-yard touchdown by Isaiah Rustad called back on a penalty. Rustad later caught a 22-yard touchdown pass from Cameron Wright.
Hudson moved ahead 27-6 on a 15-yard touchdown pass from Cameron Wright to Cody Schmidt.
The Pirates gave up two late first half touchdowns, as the Warhawks scored with 53 seconds left to play and then again, following an interception of a Cameron Wright pass.
Hudson led, 27-18 at half and survived a wild second half to win, 48-36. Hudson moves into the Class 1A playoffs next Wednesday night.