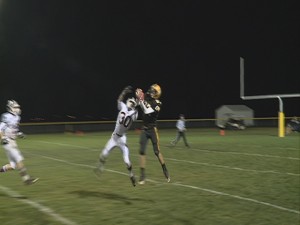 CENTER POINT (KWWL) -
The Center Point-Urbana Stormin' Pointers entered Friday night with just one loss on the season, and a chance to play for the district title, while Mt. Vernon was already playoff bound, and a possible chance to move into second place in 2A District 4.
In the first quarter, the Pointers finished off a nearly seven minute drive with a 10-yard touchdown run from Brandon Roseberry to give CP-U a 7-0 lead midway through the first stanza.
After that, the Mustang defense went on lockdown, as Mt. Vernon used an interception and a fumble recovery to stifle the Pointer momentum.
Halfway through the second quarter, Mustang Wide Receiver Conner Shaffer used a screen pass from QB Logan Walker to sneak down to the 7-yard line. On the next play, Marshall Tuerler broke free from the defense, and into the end zone to put Mt. Vernon on the board. After a failed 2-point conversion, the Stormin' Pointers still led 7-6.
Late in the first half, Walker set up another short pass to Jake Muller, who raced 50 yards for the touchdown. This time, the Mustangs converted the 2-point try and took a 14-7 lead into halftime.
But CP-U played a strong second half, and held Mt. Vernon to just seven second half points, and the Stormin' Pointers came away with a 22-21 victory to lock up the #2 spot in the district.