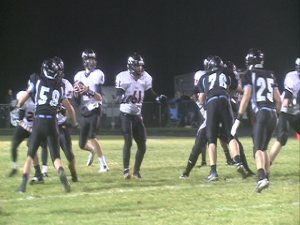 TAMA (KWWL) -
Grinnell has been dominant winning its games by an average of 39 points a game.
South Tama comes in with just one loss and since losing to Newton, South Tama has been on a tear winning its last four games by an average of 47 to 11.
It was a rivalry game in South Tama Friday night.
On the opening kickoff the Trojans would try for the onside kick. The ball would bounce around and big number 65 Dalton Vest of South Tama would fall on it.
During their opening drive Trojan quarterback Sam Kuhter would show off the arm and hit Jose Fonseca. Fonseca would take it down to the two yard line.
That play would set up a two yard run by Kyle Stephenson. With the extra point the Trojans would go up by seven.
The following kickoff would land in the hands of Jack Leshen. Leshen would take multiple hits but he would stay on his feet and find his way to the end zone. The extra point would be up and good and the Tigers would tie things up in the second quarter.
South Tama would put up a fight, but the Tigers would be great. Grinnell won this one 26 to 17.