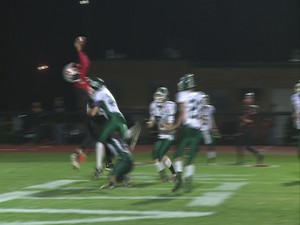 LA PORTE CITY (KWWL) -
In 2A District 3, 7-1 Union hosted Waterloo Columbus who were looking for their first win of the season.
On the second play of the game, the first being a kickoff safety going to Union, Union's Kolton Bayer took it 78 yards swerving through the whole Columbus defense to the end zone.
Jay Scheel had a big night, he saw action at quarterback and wide receiver. Near the end of the 1st quarter as a wide receiver made it look easy for another 6 points.
With just under 7 minutes to play in the second, Scheel took the quarterback keeper for 53 yards to the house, 22-0 Knights.
Later in the 2nd the Knights defense got on the board, Will Crees picked off the ball and took it across the line putting Union up 29-0 and they roll on to a 50-0 victory.