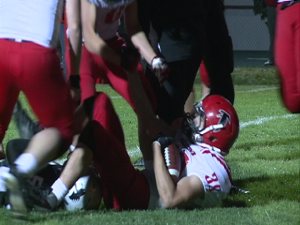 NASHUA (KWWL) -
Nashua-Plainfield entered Friday night with just one district loss. The huskies would need a win to keep their title hopes alive.
Aplington-Parkersburg has a perfect record in district play and the Falcons would try not to look ahead to the big championship showdown next week against second ranked Dike-New Hartford.
The black and silver of the Huskies would add a little pink for breast cancer awareness month as all players spent the night wearing pink socks.
The Huskies would put up a fight in the first half. In their first series quarterback Hunter Mueller would hit Nate Masters. Master would run it in from five yards out. N-P would miss the extra point, but go up by six.
The Falcons would answer right back with this 15 yard run by Brady Frey. A-P would hit the extra point and go up seven to six.
The Falcons would also flex their defensive muscle. Tyler Peters would strip the ball and Kollin Cuvelier would fall on it. That would set up a five yard touchdown run by Brady Frey. The Falcons would go up14 to six Falcons.
The Falcons would start to find their stride at the end of the first quarter. A little later Hunter Carmichael would take it into the end zone from eight yards out and put the Falcons up 21 to six.
The Huskies would stay in the mix as Mathew Sharp would hit Masters and Master would do the rest by keeping his feet in bounds and in the end zone. N-P would go for two and get it as the Huskies would be just one touchdown behind the Falcons.
Aplington-Parkersburg would go into their two minute drill and score one more time before half.
The Falcons would dominate the second half as they would win Friday night 55 to 14.