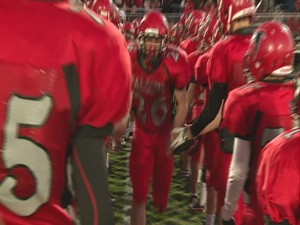 PARKERSBURG (KWWL) -
Sixth ranked Aplington-Parkersburg has won its four district games by a combined score of 179 to 29. The Falcons were expecting to have an easy time Friday night against Eagle Grove as they are still winless.
Friday night was senior night at Ed Thomas Field and every Falcon was going to get the chance to play.
In their first series, the Falcons would cap off their drive with a five yard run by Alex Johnson, with the extra point the Falcons would go up seven to nothing.
Eagle Grove Head Coach and A-P alum, Kelly Williamson, would try to take down his home town team. Eagles quarterback Brandon Johnson would do a little bit of everything to get into the end zone. Eagle Grove would also go for two and get it.
The Eagles would lead the Falcons eight to seven, but it would not last.
The Falcons got their air in their second drive as Kollin Cuvelier would hit Hunter Carmichael and he would take it down to the one yard line. That play would set-up a one yard touchdown run by the Brady Frey.
The Falcons would dominate the Eagles Friday night 62 to 16.