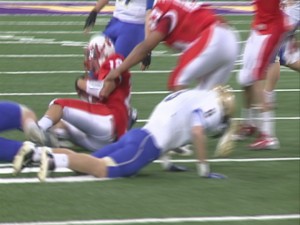 CEDAR FALLS (KWWL) -
No. 5 ranked and unbeaten Cedar Falls played host to 1-5 Dubuque Wahlert in the UNI-Dome.
On the first Tiger drive, quarterback Brayden Longnecker connected with senior Ike Boettger in the corner of the end zone with the one-hander through double coverage putting the first score on the board.
A few minutes later it looked like a repeat touchdown by the Iowa Hawkeye-commit Boettger, but the sideline got in way by the time he secured the catch. But, it set up senior Nick Clark who got help from his offensive line as he ran it up the middle which made it 14-0 Tigers.
Cedar Falls kept it coming the rest of the first half. It was 35-0 at half and didn't change the rest of the game.
Cedar falls stays undefeated with the win.