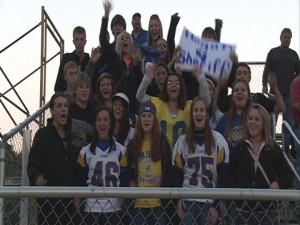 GILBERTVILLE (KWWL) -
Don Bosco hosted Rockford on homecoming night and Rockford was looking for their first district win.
Junior quarterback Jake Hogan got off to a good start in the 11st quarter connecting with Junior Travis Havel to put an early 6 on the board.
On the next Don Bosco drive Hogan found senior Tyler Metcalf for a 23 yard completion making it 14-0.
Hogan kept it pouring showing off his mobility with the quarterback keeper only to be taken down on a shoestring tackle a few yards short of the goal line.
On the next set of downs Hogan handed it off to senior Tyler Backes for the score which made it 20-0.
With just a few seconds left in the first, Hogan found Havel again who made it look easy for his second score of the game that made it 28-0 and the Dons' don't look back from there as they knock off Rockford 42-16.