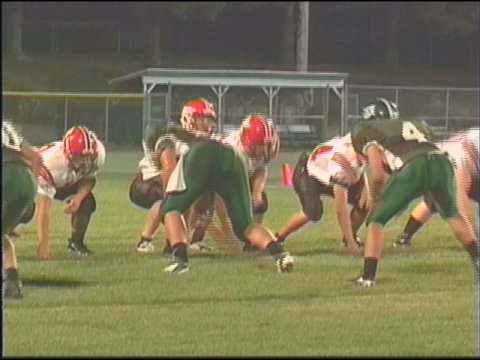 WATERLOO (KWWL) -
In Class 2A District 3 unbeaten and fourth ranked New Hampton and Super Tailback Brandon Tenge make yet another statement this season. The Chickasaws have been solid on both sides of the ball winning its first four games by an average of 40-10 . Friday they took on the Columbus Sailors looking for its first win of the season.
The Sailors celebrating homecoming, but their celebration was short lived after going 4 and out on their first possession. The New Hampton Chickasaws' first play comes from the 50-yard line. Their first play and Brandon Tenge takes it 25 yards and two plays later Tenge tap dances his way into the end zone from the seven. The extra point would be no good making the score 6 to zero, Chickasaws.
The Sailors would be forced to punt on their second possession. Sailor Punter Jonathan Maas kicks a beauty from the Sailors 41-yard line pinning the Chickasaws deep on their own 15, but the Chickasaws stomp on the Sailors with the very next play. Brandon Tenge takes the ball right down the gut and weaves his way down the right side of the field and shifts it into second and takes off 85 yards to pay dirt. New Hampton's lead builds to 12-0.
The Columbus Sailors simply could not get anything going in the first quarter. New Hampton takes the ball over on their own 45. The first play and it is Sawyer Anderson out racing everyone around the left side of the field for another quick score. The extra point was good and the Chickasaws lead is now 19-0.
Sailors Coach Aundra Meeks calls a time out trying to keep his team in it, but after penalties and a good punt return the Chickasaws start their fourth possession on the Sailors 20. Two plays later, Brandon Tenge scores his third TD helping run the score to 26-0 at the end of the first quarter.
The Sailors were simply overmatched losing 54 to 7.