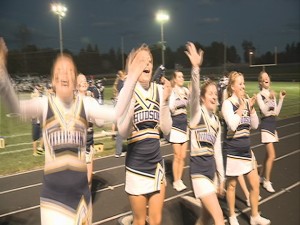 HUDSON (KWWL) -
The Hudson Pirates exploded for 41 first-half points and played hard-nosed defense on route to a 41-13 victory over Eagle Grove Friday for Hudson homecoming.
Hudson got two first half touchdowns each from Connor Wrage and Aaron Marcellus.
Junior Joe Hageman also run for one touchdown, and Connor Simpson fired a touchdown pass to Cameron Wright to cap the Pirate scoring.
Defensively, Hudson came up with two interceptions and stopped Eagle Grove inside the 10-yard line to keep the Eagles out of the end zone.
The Pirates up their season record to 5-4; 2-1 in Class 1A District 3 play. Hudson travels to Nashua-Plainfield next Friday night in a key District 3 match up, as both teams have playoff hopes.