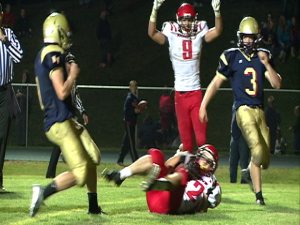 WEST UNION (KWWL) -
In Class 1A, 9th ranked Aplington-Parkersburg paid a visit to North Fayette in a non-district game. Aplington-Parkersburg seems to be back on track by winning two straight blowout victories since a stumble to 2A power Union three weeks ago.
On Friday night, the Falcons faced a proud North Fayette team which has suffered two losses in its first four games.
The North Fayette Hawks were hoping to tear through the competition Friday night, but the Falcons would put up a fight.
The Falcons would get on the board early and often. In the first quarter, Brady Frey would take the hand off and goes up the middle for a one yard touchdown run. Falcons would go up 7 to nothing early.
Still in the first quarter, the Falcons would keep it on the ground. Kollin Cuvelier would pitch to Frey and he would take it 35 plus yards to the end zone.
Still in the first quarter Frey would do it again from five yards out by bursting into the end zone. The extra point would be also good. The Falcons would go up 21 to nothing.
North Fayette would get back into the ball game at the end of the first quarter. After putting together a nice drive, Hawk's running back Josh Mackey would cap it off with a run up the middle. The Hawks would finally get on the board with seven points.
In the second quarter, Lane Hovenga would also find the end zone for the Falcons. Aplington-Parkersburg would go into the locker rooms at half-time up 35 to seven.
It would be more of the same in the second half as the Falcons beat the Hawks 49-7.