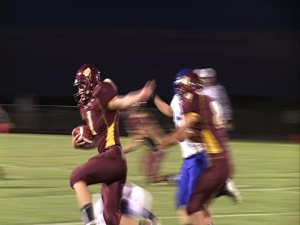 DENVER (KWWL) -
In 1A District 4 MFL Mar-Mac and Denver faced off on a Cyclone homecoming night.
The Denver Cyclones' came out hot on defense first, MFL quarterback Brandon Burke threw a pick to Chase Shedenhelm who took it 59 yards for the first score of the game.
On Denver's first offensive drive of the game, quarterback Braydon Neuendorf hurled it to wide receiver James Sparkman who made it look easy all the way to the end zone. Which made it 14-0 near the end of the 1st.
Denver kept it pouring the rest of the game, MFL missed a punt and it got picked up by a crew of Cyclones to set up quarter back Neuendorf who handed the ball off to running back Shedenhelm. Shedenhelm faked the run and threw it to Sparkman in the end zone to make it 21-0.
Denver won big 69-8.