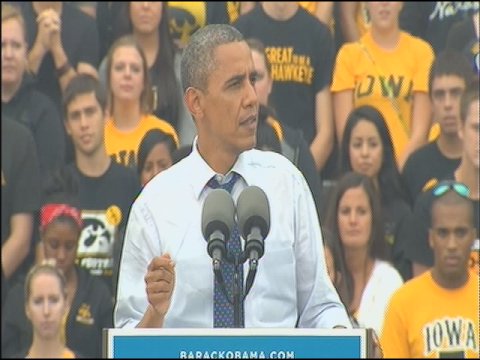 IOWA CITY (KWWL) -
President Barack Obama spoke at the University of Iowa for the second time this year on Friday. This time he was joined by Vice President Joe Biden, First Lady Michelle Obama and Dr. Jill Biden.

The President and First Lady landed at the Eastern Iowa Airport around 4:45 p.m. on Friday.

Straight off his nomination at the Democratic National Convention in Charlotte, North Carolina on Thursday night, the President spoke to a crowd of about 8,000 people on Jessup Lawn in Iowa City.

Mr. Obama was introduced by the Vice President. In his speech, the President focused on issues that have become the cornerstone of his Iowa campaign stops: the economy, education and wind energy.
His opponent, Republican presidential candidate Mitt Romney made a stop in western Iowa earlier on Friday.
This was the President's 8th trip to Iowa this year.