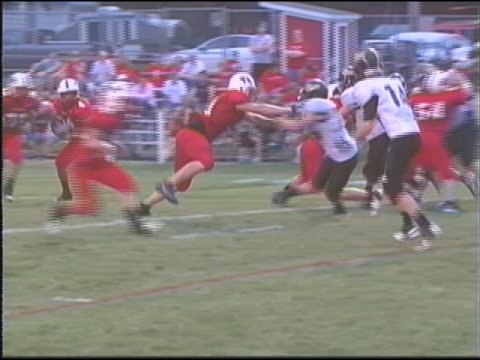 TRAER (KWWL) -
North Tama and Lone Tree tasted the power of bigger schools last week. The Red Hawks lost 52-24 to an Aplington-Parkersburg team ranked third in Class 1A. While Lone Tree jumped two classes and got whipped 44-0 by a Mediapolis squad ranked 2nd in 2A.
The North Tama Red Hawks came out ready and the mighty Lions of Lone Tree started off a little flat. In fact, their third offensive series ends in a fumble and one play later it's number four Brent Billerbeck taking the ball threw a hole 36-yards to the zone. North Tama six, Lone Tree zero with 2:41 left in the first quarter.
The Lions took over and they were ready to pounce. Their first play and they go deep from the 31-yard line and strike it big putting up what a appears to be the tying touchdown, but a penalty calls it back and the Lions fumble once again on the very next play setting up North Tama's Billerbeck for his second touchdown of the night.
This time in the second quarter from the 26-yard line Billerbeck finds a seam making the Lions pay once again and with the two point conversion good it is 14-zip in the second quarter.
The Lions go four and out and the Red Hawks go right back to work with their offensive line once again clearing the way for Billerbeck....he is not going to go down until he runs at least 51-yards to the Lions 27-yard line.
A few plays later Billerbeck calls his number once again and this time reaches for the touchdown, but unfortunately in the process hurts himself and will need help leaving the field. The Lions would make a game of it in the second half, but end up losing 19 to 20.
The Red Hawks are now 2 and 1 while the Lions fall to 0 and 2 in the young season.