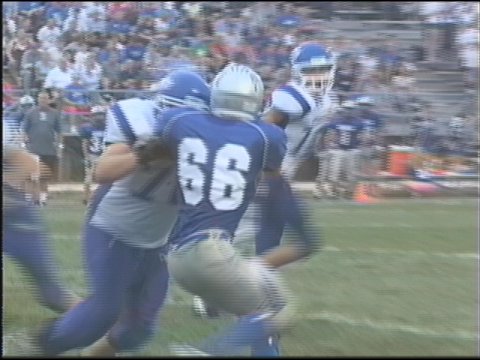 GLADBROOK (KWWL) -
The Dike-New Hartford football program is a force to be reckoned with on a yearly basis. The Wolverines showed that 2012 will be no exception, as they ran their record to 2-0 after scoring a convincing win over the Gladbrook-Reinbeck Rebels 35-0.
The Wolverines got the scoring started late in the first quarter on a 1-yard Quarterback sneak from Junior Carson Parker, putting D-NH on top 7-0.
On the ensuing Rebel drive, G-R Quarterback Trevor Trunck had his low-flying pass picked off by Wolverine Defensive Back, Wyatt Syhlman, giving the Wolverines the ball on the Rebel 30-yard line.
Just a few plays later, Parker set up a beautiful screen pass to fellow Junior Gabe Eiklenborg, who waltzed into the end zone from 20 yards out to put D-NH ahead 14-0.
Late in the first half, the Wolverines used a receiving touchdown from Sean Morgan and a rushing TD from Terry Mooty to take a 28-0 lead into halftime.
The Wolverine defense held tough in the second half, and needed just one more touchdown to cap off a 35-0 victory.
Dike-New Hartford now stands at 2-and-0 on the season, while Gladbrook-Reinbeck falls to 1-and-2.