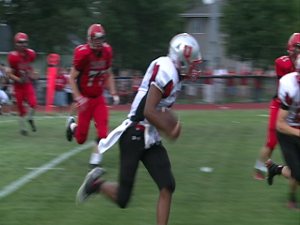 PARKERSBURG (KWWL) -
Last week the 3rd ranked Falcons flexed their muscles pulling away in the second half for a 52-24 victory over North Tama. While the sixth ranked Knights got clipped 45-42 at home by Center Point-Urbana.
The Falcons would come out flying high for this one, but the Knights would look to clip their wings.
In the first quarter, Union quarterback Jay Scheel would keep it himself and take it all the way to the end zone. Scheel would be a force to be reckoned with in this one and the A-P coaching staff would have their hands full.
Later in the first, Scheel would take it from the shotgun. He would air it out to the corner of the end zone. Brady Petersen would haul it in with a little fancy footwork to boot.
A-P would get around to what they do best and that would be running the ball. Before the end of the first quarter Falcon running back Alex Johnson would break free and take it 53 yards to the end zone. With the extra point the Falcons would only be down by seven.
In the second quarter the Knights would get on their horse and ride. From the shotgun again, Jay Scheel would look for his favorite target and he would find Brady Petersen in the end zone.
Union would miss the extra point, but would go up 20 to seven. It would be all Union the rest of the game. The Falcons fall to the Knights Friday 41 to 14.