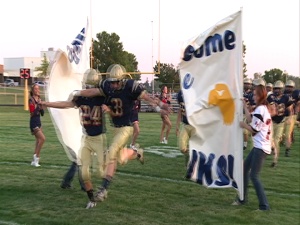 WEST UNION (KWWL) -
Perennial playoff contender North Fayette drops down to class 1A this year from 2A. The Hawks open the season against a Postville program that advanced to the quarterfinal round in the Class A state playoffs last year.
North Fayette was looking to start off the season with a win. North Fayette has a record of 221 and 67 and was looking for one more Friday night.
In it's first series the Hawks would do some damage. Running-back Derrick Kuehner would take the hand-off and with a little fancy footwork he would go forty yards down field.
That would set up a touchdown run Josh Mackey. Jake Walter would hand off to Mackey who would rumble into the end zone for six. With the extra point North Fayette would go up by seven.
A little later in the first quarter, Walter would start from the shotgun and hand off to Kuehner. Kuehner would take it twenty yards down field and into the end zone. With the extra point the Hawks go 14 to nothing.
North Fayette's kick-off would go into the hands of the Pirate's Diego Calderon who would take it the length of the field. Calderon would find the end zone for six points.
The extra point would bounce off the score board and it would be no good. At the end of the first quarter the score was 14 to 6.
The Hawks would be too much for the Pirates on Friday night as they go on to win 35 to 25.