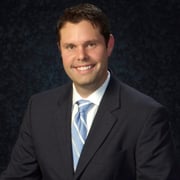 Jason Carter
KWWL News Anchor/Reporter
If a story affects your family, then it affects mine.
My wife and I chose to raise our three kids in Eastern Iowa because of the real sense of community and fantastic schools. Iowa is an amazing place with an incredible sense of community and I am proud to call it home.
I have had the privilege of covering big stories that have impacted thousands of people throughout my career, including one of the largest corporate scandals ever (Worldcom) to the most devastating hurricane to hit the U.S. in the past 100 years (Katrina). These stories have shaped me as a journalist and a person.
After a diverse background of covering news and sports, I made the transition from investigative reporting to morning anchor. I really enjoy morning news because it's a mixture of hard news and stories that make you feel good.

When I am not at work, I love coaching my kids in different sports, volunteering for community organizations and serving on my church council.
My wife Danielle works at John Deere. Our oldest two children are in elementary school. And their younger brother looks forward to joining them in a couple years.