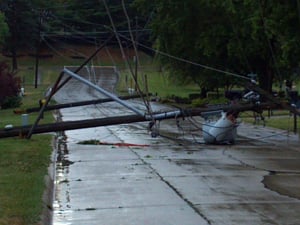 Downed power lines in Belle Plaine
CEDAR RAPIDS (KWWL) -
A severe thunderstorm rolled through eastern Iowa Friday night with reported wind speeds of up to 90 mph.
Downed power lines kept utility crews busy late into the night. At 6:00 p.m., Alliant Energy reported more than 18,000 customers without power in Benton, Iowa and Linn Counties. Those numbers were decreased to more than 5,000 by 11:00 p.m.
Wind damage was reported in Iowa, Benton and Linn Counties.
In Benton County, strong winds blew down an old barn owned by Prairie View Pleasure Horses.
Two horses were trapped in the barn; these were not show horses but animals endeared by the family.
Emergency crews responded, but the owners had to put down the two horses.
However, they did have more horses in another barn not too far away, and that barn had only minor damage.
"The wind came in and went underneath and just threw it and knocked the bottom out from underneath it and just collapsed, and obviously, we have a mess to clean up." Barn Owner Pamela Towe said.
Towe believes this barn was built possibly as far back as the 1860s.