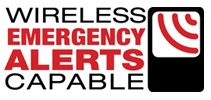 WEA enabled phones should have this label on the packaging
Most major carriers in the U.S. are participating in the program. But participation is voluntary. Contact your cell phone provider to ask if they are participating in the WEA/CMAS program.
Please note that the phones capable of receiving CMAS alerts will continue to grow and change. This is a partial list of phones which was provided to us by wireless carriers. Please check with your wireless carrier to see if your particular phone is CMAS enabled.
4G T-Mobile® myTouch®
Droid 2 Global Droid Pro by Motorola
Droid 2™ by Motorola
Droid RAZR by Motorola
Droid RAZR MAXX by Motorola
Droid X by Motorola
EpicTM 4G Touch
HTC EVO 3DTM
HTC EVO Design 4GTM
Kyocera BrioTM
Kyocera Duracore Kyocera DuraMax
Kyocera MilanoTM LG MarqueeTM
LG Cosmos™ 2 LG Revere™
LG Enlighten™ Lucid™ by LG
Motorola Atrix 2 (mb865)
Motorola Bionic LTE by Motorola
Motorola Milestone X2
myTouch® Q HTC® One S
myTouch® T-Mobile®
Nokia Lumia 710 T-Mobile®
Samsung Captivate Glide (SGH-i927)
Samsung Convoy™ 2
Samsung Galaxy S® Blaze™
Samsung Galaxy SII (SGH-i777)
Samsung Galaxy STM II
Samsung Transform UltraTM
Samsung TrenderTM
Sanyo InnuendoTM by Kyocera
Sanyo VeroTM by Kyocera
Verizon Jest 2