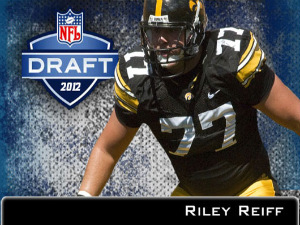 Courtesy HawkeyeSports.com
Iowa Hawkeye Riley Reiff is headed to Detroit after being picked 23rd overall in the first round of the 2012 NFL Draft Thursday night.
Reiff, who was projected by some to go earlier in the round, will add depth to an aging offensive line.
This is the third year in a row that a Hawkeye was selected in the first round and the sixth time that a Kirk Ferentz-coached Hawkeye was picked in the first round.
With the selection of Reiff, Lions general manager Martin Mayhew stuck to his philosophy of taking the top player available on his draft board.
Reiff was reportedly hanging out in his barn in Parkston, South Dakota, not even watching the draft, when his phone rang Thursday night.
Reiff joins former Hawkeyes Ryan Donahue and Amari Spievey on the Lions roster.
The draft continues on Friday night with rounds two and three. Hawkeyes Marvin McNutt, Jr., Adam Gettis, Shaun Prater, Mike Daniels, Jordan Bernstine, Broderick Binns, Tyler Nielsen, Lebron Daniel, Markus Zusevics, Brad Herman, Eric Guthrie and Thomas Nardo will all wait to see if their names are called.