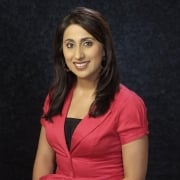 Being back in the Midwest is a great feeling. I started my career in Duluth, Minnesota several years ago and though I have hopped across the country my dream has always been to return home. I grew up in the Minnetonka, Minnesota area and went to school at the University of Minnesota on the gorgeous Twin Cities campus.
My career has taken me to the frigid state of Alaska where I covered amazing stories in a breathtaking landscape. I worked for two years at the NBC affiliate anchoring and reporting on education stories. One of my most memorable experiences was traveling in a tiny float plane to the village of Savoonga which is a tiny island on the Bering Sea to unearth a mysterious "whistling language" and interview legendary carver Floyd Kingeekuk. My photographer and I had to watch for polar bears! I was honored with an award from the Alaska press club on my story highlighting orphans of meth users in the state. Living and working in the last frontier is an adventure I will never forget.
After Alaska, I moved to beautiful Eugene, Oregon where I anchored Fox News at 10 for four years. I fell in love with the wonderful people I met in Eugene and am blessed to have had the opportunity to live and work there. My wonderful viewers honored me by awarding me the title of "Best Local Television Personality" by the readers of the Eugene Weekly.
You can also catch some glimpses of me in the Hollywood movie "State of Play" where I play none other than a news anchor.
In my spare time I enjoy reading and spending time with family and friends. I'm also obsessed with coffee and enjoy blogging and writing.
I am excited to make the Cedar Valley my home and please do not hesitate to drop me a line. I love to hear what my viewers have to say.